NCR Aloha Takeout



Want to order out for better takeaway and delivery operations?
Competitive advantage goes curbside with new POS capabilities
Drive sales – and staff efficiency with NCR Aloha Takeout. This application has what it takes to help you improve your speed-of-service, manage future sales and optimize delivery. Aloha Takeout tightly synchronizes fast-paced restaurant takeout and delivery operations from order entry to driver route planning, making the most of every minute. Benefits include:
Create new sources of revenue
Customers expect flexible dining options – with Aloha Takeout, you can give it to them. Extend the walls of your business with fast, profitable takeout and delivery operations.
Get closer to your customers with look-up tools
Recognize your customers when they call with integrated caller ID, fast look-up capabilities and access to previous order data. Aloha Takeout provides automatic searching against six fields, increasing the likelihood staff can locate the right customer on their first attempt.
Enhance customer satisfaction with faster phone service
Aloha Takeout is engineered for speed, with tools to identify customers, access secured, stored payment information, and repeat previous orders quickly and accurately. With shorter hold times, staff can serve more customers, generating higher sales and improving customer satisfaction.
Improve production of future orders
Replace manual processes with automated scheduling, tracking and production of future orders. Aloha Takeout makes it easy to manage future orders and ensure deposit accountability, increasing customer trust – and driving repeat business.
NCR Aloha Table Service POS
Powerful POS capabilities are the main course for table service
With Aloha Table Service, the wait is over. This multi-functional POS system gives restaurant operators all the tools they need to boost sales and speed service. Staff can use Aloha Table Service to enter orders and payments, streamline food preparation and delivery, and improve operations.
Benefits include:
Faster service
Use Aloha Table Service to serve customers swiftly and accurately. The system's easy-to-use graphic interface makes order entry, bill splitting and card processing simple, while providing optional tools for order breakdowns and routing.
Greater customer loyalty
Aloha Table Service helps staff deliver superior customer service that wins repeat business. The POS application can also be used to build loyalty programs and increase gift card sales.
Enhanced operational control
Analyse detailed reports to drill down on sales, server and restaurant performance. Use data to fine-tune menu design and promotions, make staffing decisions and compare your restaurant's performance against its peers.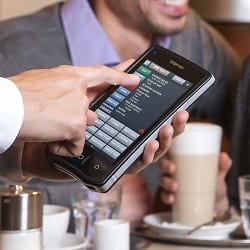 Aloha Mobile



The power and flexibility of Aloha in the palm of your hand
It's no secret. Aloha users are passionate about the ease-of-use, redundancy and flexibility built into their Aloha systems. Now we are giving you the capability to extend the value-added features of Aloha to a mobile device, Aloha Mobile. Available today on NCR's next generation handheld device and iOS for Apple® consumer devices, you can choose what hardware devices you want to use to deploy mobile ordering and payment technology. Your employees will have a seamless experience with the same user interface and workflow, regardless of the hardware platform
Choose the hardware platform that works for your business Every business is different.
With Aloha, you now have the choice to use traditional POS terminals, NCR's built‑for‑purpose handheld device and/or iOS devices within the same location.
Increase consumer engagement and satisfaction
Your business revolves around putting the customer first. Aloha Mobile enables your servers to spend more time with their guests resulting in better service, increased order accuracy and consistent upselling.
Increase your table turns
With Aloha Mobile, the order-to-service cycle runs more quickly, enabling you to serve guests faster and shorten wait times to keep potential guests from walking out. Orders are more easily communicated from the guest to the kitchen or bar in a single step.
Create and maintain the loyalty of your staff
Happy employees can make or break your business. Servers that use Aloha Mobile give better service, resulting in increased tips and a stronger attachment to the customer and the restaurant
NCR Aloha Quick Service POS
Seeking an application that empowers
cashiers to give great service?
Boost Restaurant Service and Sales
Your restaurant customers depend on you to provide fast, friendly and totally consistent service, time after time. That's why it's important to set the stage for success with point-of-sale (POS) technology that delivers on your brand promise. Count on Aloha Quick Service to help you increase sales, offer exceptional service and maximize control of critical operations.
Benefits include:
The tools to drive sales
The system's simple graphic interface drives through out and accelerates the pace of service. In addition, it helps increase average check size with up-selling and cross-selling suggestions.
Fewer thouches for faster service
With Aloha Quick Service, there are fewer touches to modify items, resulting in faster order completion. Cashiers can also toggle dynamically between a la carte items or combos, making it simple to fulfill diverse requests.
Data to improve operational control
Acquire the insights you need to make fast decisions, reduce waste and understand customer behavior. Aloha Quick Service provides critical metrics, including inventory quick counts, labor costs and sales at the category and product level.
Intuitive functionality increases accuracy
Aloha Quick Service streamlines order input. The POS system also provides intuitive substitutions for combo items, decreasing errors.
Interactive customer display enhances service
Take ordering and payment to a new level with an interactive customer display. The display will show customers their order as it is entered, increasing accuracy while recommending related items for sale.
NCR Aloha Kitchen

Want to drive more effeciency and productivity within your kitchen?
Add value to your kitchen operations
Aloha Kitchen helps you maximize guest satisfaction, reduce staff costs, minimize kitchen errors and reduce wasted food. Kitchen staff is more productive and able to focus solely on food quality. With its bright graphical displays, robust reporting capabilities and quote time calculators, Aloha Kitchen gives you better analysis, enhanced organization of items and controlled timing functionality. Aloha Kitchen seamlessly integrates to additional functionality within the Aloha solution, such as takeout, guest management and configuration systems.
Improve speed of service
Better control your speed of service without rushing guests and drop critical minutes off of total check times. Better time appetizer, entrée and dessert preparation and delivery.
Maintain high food quality
Serve the freshest and best product possible by keeping dishes at optimum temperatures.
Increase productivity
Reduce the number of required on-shift employees with highly streamlined and efficient kitchen technology and better coordinate order of production with cook timing functionality.
Enhance the guest experience
Display modifiers easily and clearly to ensure dishes are created as requested by guests.
Analyze and manage information
Analyze item details, speed of service rates and order information with robust kitchen operations reports. View lead ticket times to determine how long an order has been in production.
Restaurant operators need comprehensive back office applications to efficiently analyze results, effectively control inventory and labor costs and automatically alert management to issues that require attention.
Aloha Back Office provides the tools necessary to measure your operations in real time to make smart decisions quickly. Our award-winning solution is comprised of three applications, Aloha Insight, which offers consolidated reporting, alerts and intelligent analytic capabilities across all locations and MenuLink Labor and MenuLink Inventory, which provide excellent control over the two most critical components of your business, labor and inventory management.
GROW REVENUE AND PROFITS
Measure operational performance accurately to make smart business decisions quickly.
INCREASE VISIBILITY AND CONTROL
Manage critical data across all sites and implement new database changes in a single site or multiple sites – any time, anywhere.
REDUCE OPERATIONAL COSTS
Measure, control and reduce food costs by highlighting variances and forecast labor scheduling to maximize employee productivity.
IMPROVE CUSTOMER SERVICE
Spend less time on administration and more time serving customers and improving employee satisfaction.
Manage multi-site IT operations from a single screen
NCR Aloha Command Center is a remote monitoring and diagnostic tool that provides you with unprecedented control over IT operations. Use Aloha Command Center to acquire real-time updates on the status of hardware and software at all of your restaurant locations. This powerful hosted application enables you to troubleshoot and solve issues rapidly, before they impact site operations and the customer experience.
Benefits include:

• Instant visibility into system performance
Use Aloha Command Center to monitor all site systems in real-time. Receive automated alerts when issues do occur, enabling you to take immediate action.
• Rapid resolution of technology issues
Aloha Command Center provides powerful support features, allowing remote technology teams to diagnose and solve problems without taking over site servers and terminals. As a result, your restaurant staff can continue providing exceptional, uninterrupted service to your customers.
• Protection of confidential data
Guest and system data are protected with leading security protocols. Maintain your brand reputation by safeguarding confidential data from unauthorized access and exposure.
• System design strengthens security
Aloha Command Center protects your technology operations
with multi-factor user authentication, security alerts and audits,
and encrypted, outbound-only communications. In addition, automatic security updates ensure that your systems are
always protected against the latest threats.
NCR POS Terminals
For the hospitality industry
Reliable, robust POS terminals developed to meet your requirements
The NCR P1532 and NCR P1535 are the newest products within NCR's mainstream line of POS terminals for the hospitality industry. The highlights of its open platform include a highly-efficient Intel Atom processor for greater performance, a bright 1024 x 768 LED colour main display with a resistive or surface capacitive touch screen, ultra-low power consumption and a reliable, stylish design. The mainstream POS terminals have been engineered and manufactured to provide sustainability, non-stop reliability, maximum uptimes and a low total cost of ownership.
Serve customers faster

The NCR mainstream POS terminals combine superior processing power with top reliability. Increase your speed of service without sacrificing ease of use for your staff.

Install it anywhere

Our mainstream terminals can be used anywhere you need them, with rugged enclosures, fanless configurations and solid-state technology that can withstand spills without interrupting service.