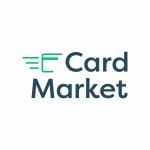 Card Market believes that one powerful piece of plastic can revolutionize the way you connect with your customers. Gift cards and loyalty cards can transform your consumer base by turning your customers into repeat buyers and brand evangelists. Card Marketing Services can help you create a card program that delivers results for your business.
Custom Loyalty Cards
Help brand your loyalty program, increase customer awareness of it and ultimately
increase participation in your program. Custom loyalty applications also available.
Direct Mail
Credit Card thick postcards with a detachable gift card attached are the new craze. Create
excitement and the special feeling that a free gift in the mail generates.
Online Gift Card Ordering Web Stores and Fulfillment
We can design a web store for your current website to sell your gift cards online 24/7.
We also fulfill the orders from our state-of-the art fulfillment center.
Fast Release Gift Cards
Need cards fast while you are waiting for your custom cards, we have the answer.
Includes company name and one address. Quantities of 100, 250 and 500 cards with
matching generic carriers. Printed in black ink.
Custom Gift Cards
Custom cards with your logo and custom artwork…your design or ours. Manage them
across locations and efficiently track and report on card sales and profitability.
Promotional Materials
We have an array of items: Gift Bags, Carriers, Envelopes, Display Stands, Door Decals,
Promotional Buttons, Posters and Custom Tabletop/Countertop Displays. All the tools you
need to better sell and support your gift or loyalty card program.
Custom Marketing/Promotional Cards
Use your POS software and a custom card as a marketing and advertising tool. New and
emerging replacement tool for current advertising.
* Custom Marketing includes: Comp/Promo Cards, Fundraising Cards, Be Our
Guest Cards, Guerrilla Marketing Cards designed to drive a targeted consumer
audience, Direct Mail Pieces that include a custom marketing card attached to the Mailer.